Paris-born and Tokyo-based,
Luigi Honorat works across sculpture and CG. His ongoing Intangible series reveals a sustained and thoughtful engagement of notions of sculptural practice slightly untethered from material concerns, by mounting digital studies and decompositions of both classical and abstract volumetric forms. Of note, he is also one of a new breed of artists making waves on Instagram, and tailoring his studies for distribution to a sizeable audience on that platform.
Below, Honorat provides insight into the ongoing Intangible series (several works of which are available through Sedition), his process and reverence for the old masters, and tangential thinking emerging from other sculptural and audio-visual installation projects.
"Fugu Twist Trails" (still) from Intangible VI
Let's start with your Intangible series, as all the works you've released through Sedition draws from that project. On one hand these works are abstract volumetric studies—explorations of the topology and geometry of various forms—but in your framing, you describe how these "variations" could be turned into physical sculptures. Could you talk about how you conceive and execute an Intangible study? And what you learn while doing them?
Luigi Honorat: I started this series some weeks after having losing access to my old workshop at the university. During those weeks I didn't produce anything, it was very frustrating and I couldn't continue like that. I thought of this series as an intermediary step, a sort of reset. It was important for me to keep some of the limitations of sculpture, so that when I could eventually go back to a proper workshop, I could bring those new ideas and forms with me.
When I conceive those forms I try to always think about how I would make them into physical sculptures: what material and technique would I use. Would a piece be done in clay and cast, would it need to be welded, would it require a CNC machines, etc. I try to work with one form, one material and one movement at a time. When I diverge from those rules I often feel like I've overdone it.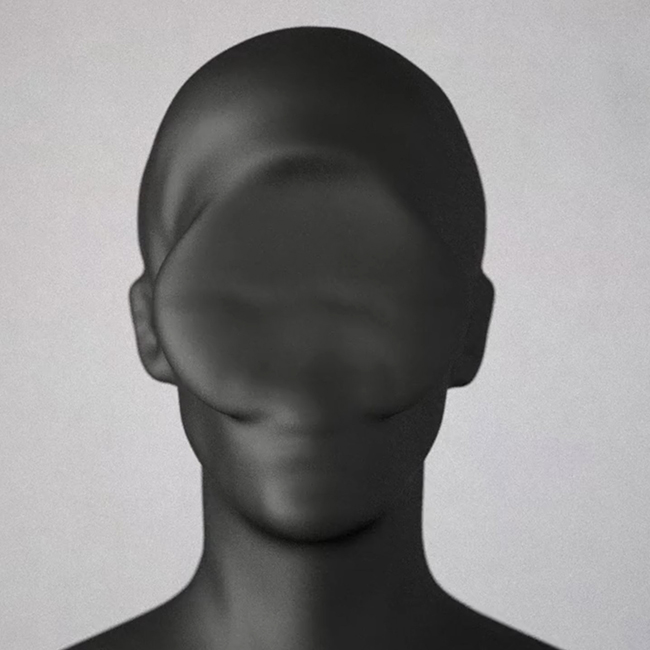 "Viscous Head" (still) from Intangible IV
By my count about half of the subjects of the Intangible works are abstract forms, this question is about the other half: the anthropometric studies. What is exactly going on with your skull and bust deformations and dissections? Is this you paying homage to the foundations of sculpture, or wanting to blow them up?
LH: There is no desire to blow up the foundation of sculpture, quite the contrary. One side of art that I'm passionate about is the way it can affect and enhance our perception, the way masters make us see simple things that were invisible to our eyes—or our brains, actually. To use very important milestones as examples, once organizing principles like contrapposto or perspective are discovered, they becomes common systems that anybody can use. I believe there is sort of a 'curse of aesthetic knowledge' as it is impossible to know how we would perceive things in a world without art. I have a lot of respect for those foundations.
The anthropometric studies are remaining from when I was working mostly with materials. In sculpture the body is always present, not just as a theme or a motif, in any work your body is also there as a limitation; with computer graphics the software, the system you build becomes the main limitation. In that series, the body is artificially brought back as both a topic and a unit of measure, a reference.
Still from Intangible II
Of the many 'operations' occurring in the Intangible series, one jumps out at me. In Intangible II, a classical Greek statue's form is colour coded into white, gold, and dark grey lateral bands, and it is then disassembled along those lines into slices. Could you describe your technique for carving up this classical form?
LH: This is an example where I didn't follow the one material rule. By doing so the three materials gives a new reading but ultimately I want to focus mainly on the form. Here, a set of random curves cut through the initial form, like you would cut a polystyrene block with a hot wire foam cutter, resulting in a set of sorted fragments. It's a study—it's not meant to be a deconstruction. Slowly museums are scanning and sharing the data of their sculptures; this is an amazing opportunity to study, interpret, and experiment.

Take Shelter, sculpture in iron and tarp
Returning to the material realm, your sculptures Iron Nails Ran In (Mass), Structures, and Take Shelter, construct physical forms that we might read as digital objects. Voronoi forms are often associated with computational geometry and the latter series look like the facetted wireframes of 3D modeling. Should we read these sculptures as capitalizing on the tension between the physical and digital, or is something else at play here?
LH: When I started sculpture, I was seeing technologies like 3D scanning and 3D printing as analogous to what photography was to painting, something that could potentially hurt its current state. I changed my opinion on that topic a few times. Sculpture techniques always grew parallel to technology's progress. Using those possibilities to explore new forms or to impact matter in novel ways are logical steps forward. That said, it is important to continue to question the digital (and the physical), and to try to understand what we are trading off when moving further 'into' the digital. What we are losing might not be that obvious.
Your suggestion of 'the things we lose' is intriguing. How do you see digital technologies either changing our relationship with materials or our perception of space?
LH: I believe that overall they are enhancing our perception of space, by multiplying the perspectives, scales and situations in which we can sense them, but it definitely worsened our relationship to matter. When I say that what we are losing isn't obvious, I mean that form and matter have important genealogies that aren't easily accessible. We often refer to matter in simplistic terms, but its richness is infinite. Digital technologies should, I believe, allow us to reconsider it, to try to understand it better, to work with it in new ways, etc., but it shouldn't try to substitute matter.
Metempsychosis, audio-visual installation
Beyond film and prints, you've also worked in VR. How has working in that medium informed you sculptural practice?
LH: I can't say it really informed it yet. For me the greatest thing with VR has been, more than the immersion, simply the possibility to perceive forms at their actual scale, or at least to get a sense for it. It's an amazing working and communication tool. Beyond that visualization aspect, I didn't take the time to go further yet, like trying to create form directly in VR. The current series is difficult to translate to VR but it's something I'm trying to do. I definitely want to explore more VR and AR possibilities.
Mentioned artists