From 12 April to 11 May a solo exhibition at Pi Artworks in London by
Mustafa Hulusi reflects on how ethics and aesthetics co-exist to create systems of power.
Cyprus Realism levels its gaze at a common phenomenon that occurs wherever power accrues. With power and authority comes responsibility, and with it potential for both healthy and corrupt growth. This balance, often extremely delicate, is entangled with, conveyed by, and implicates various image-making and communication techniques and technologies.
Cyprus Realism installation view. Courtesy of the artist and Pi Artworks.
Mustafa Hulusi explores this balance with a series of works in a range of media, connecting craft and new media. Cyprus Realism includes a series of new paintings produced specially for the exhibition, a large scale ceramic tile installation and a multi-channel video work. Collectively, the works link communication devices from the past and present - Cathode Ray Televisions, oil paintings and ceramics sit together in the gallery, producing an effect both static and transient as multiple eras, voices and politics share - jostle for - space.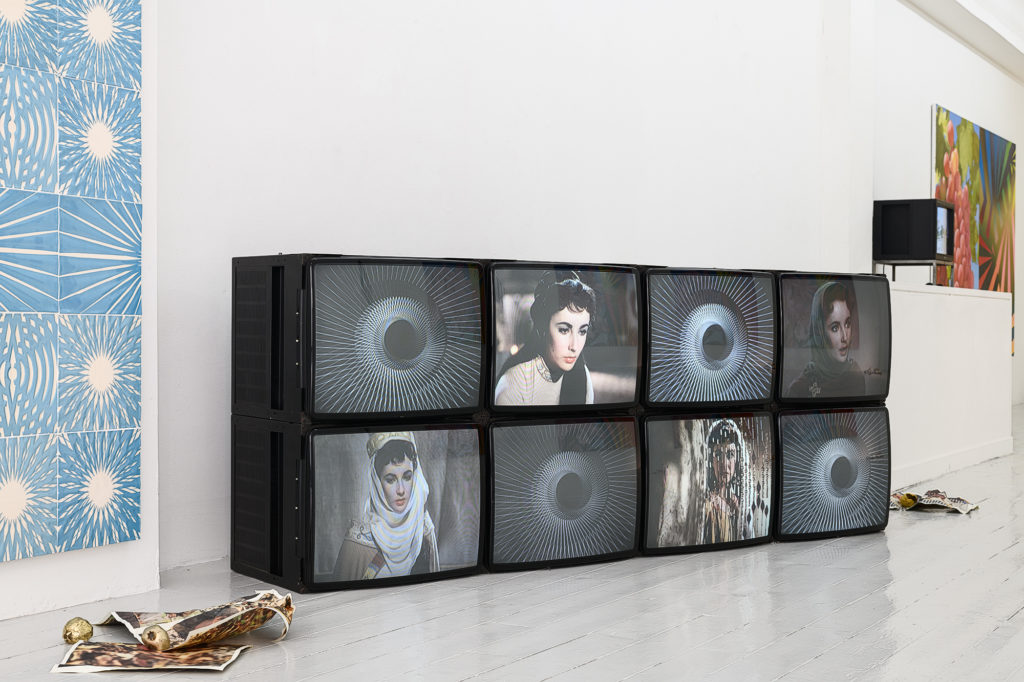 Installation view of Mood Reel (2019). Courtesy of the artist and Pi Artworks.
Mustafa Hulusi, Ambient (5) (2013-2019). Courtesy of the artist and Pi Artworks.
The exhibition looks critically and thoughtfully at the techniques and strategies used for claiming and distributing power in the past, while speculatively imagining the future. Because no one form or voice monopolises, the exhibition resists the over-simple definition which is symptomatic of a power transfer.
--
Cyprus Realism is at Pi Artworks, 55 Eastcastle Street, London, W1W 8EG, UK from 12 April to 11 May.
Mentioned artists